"There's a kid here! A human kid!"
—The Chef, Monsters, Inc.
The Chef[1] is an octopus-like monster that works as a chef at Harryhausen's in Monstropolis. He makes use of his six tentacles to prepare multiple meals at once.
Biography
The Chef was working at Harryhausen's on the night when Mike Wazowski had taken his girlfriend, Celia Mae, out for a birthday dinner. When James P. Sullivan interrupted the date, requesting assistance from Wazowski, Boo escaped from the duffel bag she was being contained in, causing mass panic to everyone in the restaurant. The Chef phoned the CDA, who quickly arrived to decontaminate the restaurant.
In the Monsters, Inc. company play "Put That Thing Back Where It Came From Or So Help Me", the role of the Chef was performed by Thaddeus Bile.
Behind the scenes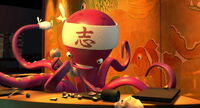 While octopuses in real life have eight tentacles, the Chef only has six; this is a reference to the 1955 science-fiction film
It Came from Beneath the Sea
, in which Ray Harryhausen, the film's special effects artist and animator, created an octopus with only six arms due to budget restrictions.
[2]
The name of the restaurant that the Chef works at, Harryhausen's, is also a reference to Harryhausen.
While the Chef is preparing food, a painting of a clownfish is visible on the wall behind him. This is a reference to Marlin, a clownfish from Finding Nemo, another Pixar film.
The Chef was portrayed by Jan Rabson, who has provided vocals for nearly all Pixar films to date.[3]
Appearances
References
References
↑ Dalton, Tony. Ray Harryhausen: An Animated Life. London: Aurum, 2003, p. 73.
Community content is available under
CC-BY-SA
unless otherwise noted.