Josh Rivera
is a scarer that works at
Monsters, Inc
.
Biography
Education and career beginnings
Rivera attended Vicious State, where he majored in Criminal Justice. Three years later, however, Rivera discovered his scaring talent, which eventually landed him a job at Fear Co. He moved to Scream Industries prior to taking his current place at Monsters, Inc.[1]
Monsters, Inc.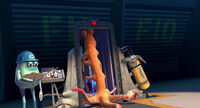 Rivera was working at Monsters, Inc. at the time of
Boo
's escape into the
Monster World
. Hours before her entry, Rivera was working on
Scare Floor F
, collecting screams with the help of his assistant,
Benny
. On the
Scare Board
, Rivera peaked at the fifth position, staying far behind front-runners
James P. Sullivan
and
Randall Boggs
. After Boo was returned to her home in the
Human World
, Sullivan and
Mike Wazowski
turned the scare floor into a laugh floor, and Rivera began collecting energy through making children laugh instead of scream.
Rivera played the role of himself in the company play "Put That Thing Back Where It Came From Or So Help Me".
At some point in his career, Rivera received a
scare card
that detailed his physical and biographical information, as well as his scare records.
Personality and traits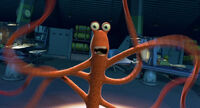 Rivera stands at 6'11", and weighs 208 pounds.
[1]
He is a tall, slender
monster
with two eyes on small stalks, six long tentacles serving as arms, and four shorter tentacles serving as legs. Rivera's skin is orange, with green stripes around his legs, and pink tips on his arms. His snake-like tongue is turquoise.
Josh is similar in appearance to Tony, though he lacks a fifth leg and mustache. Additionally, there are several background monsters that share the same model as Rivera, such as the Waiter at Harryhausen's.
Behind the scenes
Rivera is likely named after Jonas Rivera, who worked in the art department on Monsters, Inc.[2]
Appearances
Gallery
References
Community content is available under
CC-BY-SA
unless otherwise noted.