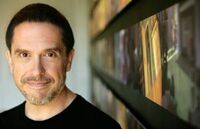 Lee Unkrich is a director, editor and voice actor who directed and edited Monsters, Inc. He has also directed other Pixar, such as "Toy Story 2", "Toy Story 3", and "Finding Nemo". Voice roles include the Red Rocker in "Toy Story 2", and the Jack-in-the-Box in "Toy Story 3". He is married, with three kids, and lives in Marin County, Cailfornia.
Directing Roles
This laugh canister is not full yet.
If you would like to help collect laughs to fill this canister, simply click the "Edit" button at the top of this page and expand this article.
Community content is available under
CC-BY-SA
unless otherwise noted.