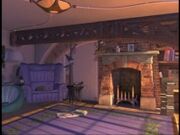 Mike and Sulley Apartment is located in Monstropolis. Mike Wazowski and James P. Sullivan live there together as roommates. It is composed of two bedrooms and a living room. When the two monsters bring Boo into the monster world, they briefly hide in the apartment, keeping Boo safe from the CDA while they decide what to do.
Appearances
This laugh canister is not full yet.
If you would like to help collect laughs to fill this canister, simply click the "Edit" button at the top of this page and expand this article.
Script
Mike: "Hey, hey, that's it!! No one touches Little Mikey!"
Sulley: "Mike, give her the bear."
Mike: "Oh, no..."
(Boo screams from the top of her lungs causing their lights to surge.
Mike: "Make it stop Sulley! Make it stop!"
Sulley:"Here! Look! See the bear? Ooh, nice bear!"
Mike: "Sulley!!"
Sulley: "See? Ooh, bear, ooh! ♪ Oh, he's a happy bear. ♪ He's not crying, neither should you ♪ Or we'll be in trouble ♪ 'Cause they're gonna find us ♪ So please stop crying right now" ♪
Mike: "Good! Good, Sulley! Keep it up! You're doing great!"
Sulley: "♪ Ooh, ah, the happy bear, he has no..." ♪
Sulley: "Bwaaaaah! Yaah! Oh, she touched me!! It touched me!"
Mike: "Sulley, the bear!!! The bear!! Give her the...!!!!"
Mike: "Whoahhhhh!!!!"
Mike: "Oof!"
Sulley: "What was that?!"
Mike: "I have no idea. But it would be really great if it didn't do it again."
Sulley: "Shhhh!"
Mary: "Shhhh."
Sulley: "Shhh!!!"
Mary: "Shhhh."
Trivia
Boo's crying causes the lights to surge making loud sounds in the voltage as it increases and decreases at a fast rate. Her crying diminishes as Sulley started singing to her making all of it stop, which turned out to be a fail causing her to cry again.
Mike trips on the lamp which wasn't intended while the lights stopped surging, and things don't turn out normal when he does so while landing in a garbage can.
Boo's laughter causes the lights to surge at a very much higher rate as so the other apartments all around, eventually leading to it's max power until the lights shatter leaving a blackout. With that, laughter is much powerful in the Monster World.
Gallery