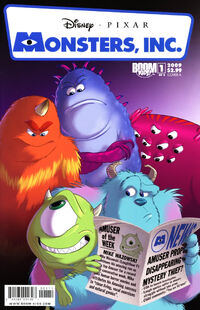 Monsters, Inc.: Laugh Factory is a comic book series, published by Boom! Studios, that features stories from the Monsters, Inc. franchise. It was written by Paul Benjamin with art by Amy Mebberson.
Issues
Monster Fink
Issue #2
Toy Worry
Issue #4
Gallery
This laugh canister is not full yet.
If you would like to help collect laughs to fill this canister, simply click the "Edit" button at the top of this page and expand this article.