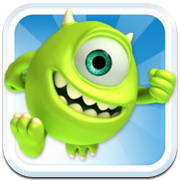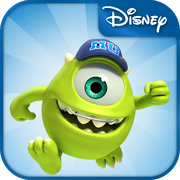 Monsters, Inc. Run
is a game for iPhone, iPod Touch, and iPad released on December 13, 2012. The game is developed by Get Set Games and published by Disney and is purchasable on Apple's App Store for Apple devices and Google Play for Android devices.
Plot
Players take control of Mike and Sulley (or 4 other tag teams) as they run, jump and power their way through various locations, to get to Randall and save Boo.
The game also includes an Endless Mode, where players play a level that goes on forever, until they die.
On June 10, a new update came out with a bonus level, based on the prequel. In the level, you play as young Mike and young Sulley, and run through the courtyard of Monsters University. Young Mike and young Sulley also become available to play in any other level in the update.
Levels
Monstropolis Rooftops
Jungle Ruins
Ice Cave
Desert Canyon
Cherry Mountains
Monsters University
More levels are supposed to come soon.
Characters
Young versions of Mike and Sulley are also playable.
Gallery
Screenshots
Videos
Community content is available under
CC-BY-SA
unless otherwise noted.