The Simulation Room is where new scarers practice scaring using a mechanical child. It was first seen during the opening scene of Monsters Inc where Thaddeus Bile practices scaring the robotic child, but ends up getting scared when the child screams. Ms. Flint also points out he left the door open.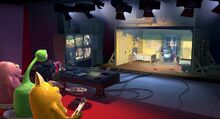 It was also where Sulley scares Boo and realises the damage that they had done to the kids they had scared. It is also where Henry J. Waternoose shows his true colours and banishes Sulley and Mike to the Himilayas.
It is also where Sulley and Mike tricked Waternoose into confessing his crime and recording it as proof.
Finally, it is seen in the ending as the place where Boo's door is kept.
Community content is available under
CC-BY-SA
unless otherwise noted.