Son: "Mama! Another gator got in the house!"
Mother: "Another gator?! Give me that shovel! Come here!"
Son: "Get him, Mama! Get that gator!"
—Trailer Folk, Monsters, Inc.
The Trailer Folk[1] are a mother and son that live together in a trailer in the human world.
Biography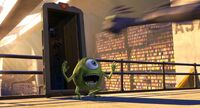 During
Mike Wazowski
and
James P. Sullivan
's skirmish with
Randall Boggs
over possession of
Boo
in
Monsters, Inc.
's
door
warehouse
, Randall managed to briefly seize control of the child, until she utilized a baseball bat and other items from her
room
to fight against the color-shifting monster. Sullivan grabbed Boggs by the neck, and, with the assistance of Wazowski, threw him into another door into the trailer.
When Boggs emerged on the other side, he was greeted by the Trailer Folk, and the son called for his mother, claiming another alligator had found its way into their trailer. The mother then proceeded to beat Boggs with a shovel, while he cried in pain and her son cheers her on.
Behind the scenes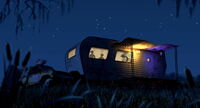 The Trailer Folk's trailer also appears in
A Bug's Life
while
Flik
goes to the big bug city located underneath it. Additionally, a
Pizza Planet
delivery truck can be seen to the left of the trailer, reflecting its appearance in the aforementioned film.
According to the Monsters, Inc. commentary that is included on the film's DVD release, the son's model is identical to that of the simulation kid, but with the addition of a cap, while the mother's model is the same as well, but with a "bun" placed on the head.[2]
Bret Parker performed the voice of the mother.[3]
Appearances
References
References
Trivia
Community content is available under
CC-BY-SA
unless otherwise noted.